Nang Gin Kui in Bangkok will forever hold special memories for me – it's where I proposed to my wife…more on that in a second.
Nang Gin Kui as a restaurant has an amazing backstory: the owner, Florian, is an Austrian native who traveled to Thailand 12 years ago, ended up entertaining and cooking for his friends, loved it, and then opened a restaurant in his apartment. Kinda living the dream, right?
I booked our dinner with Florian a few weeks ahead of time and let him know that I was planning on proposing at his place. He took the marital situation quite seriously and fired on all cylinders with the romance factor. Note the rose petals in the shape of our initials and the candlelight- a lot of well-thought-out little things.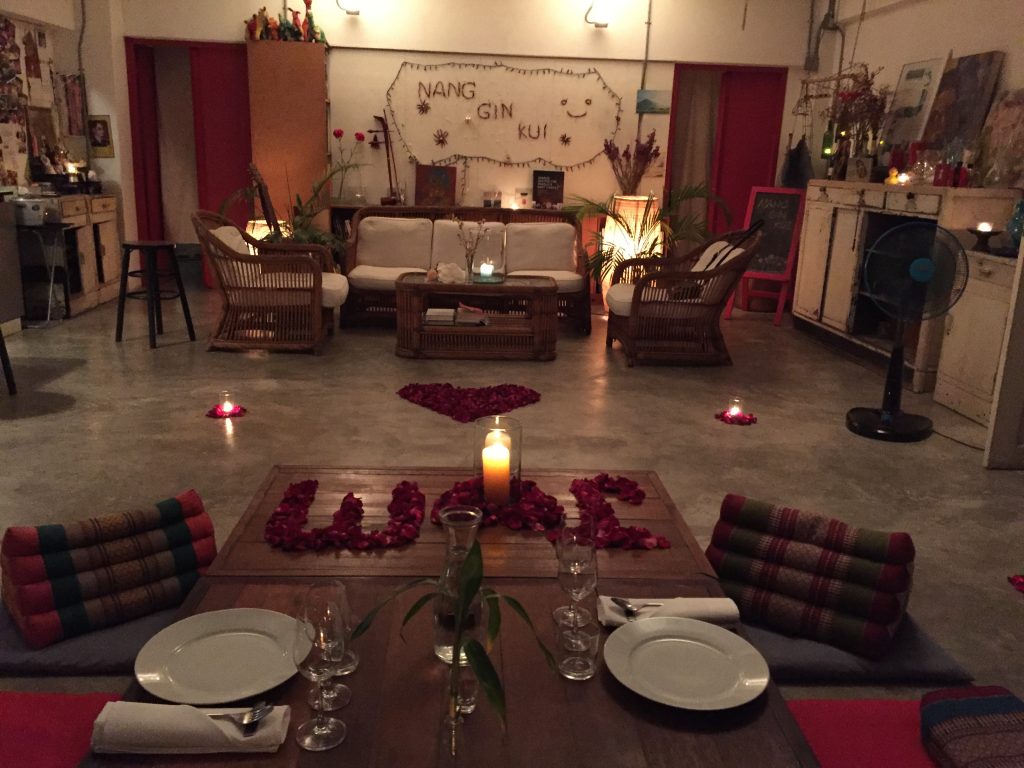 It's like when you're opening a present already sure it's what you want, and it ends up being better.
Now, Florian's place isn't just any apartment. You walk into Nang Gin Kui, spot the view, and your jaw drops to the (candle-lit) floor. The interior is centered around the stunning view from the gigantic windows that stretch across an entire wall of the apartment. The view overlooks the Chao Phraya River in Bangkok; at night you hear the crashing waves and the faint hum of river boats. A million lights shimmer across the water and stretch into the horizon.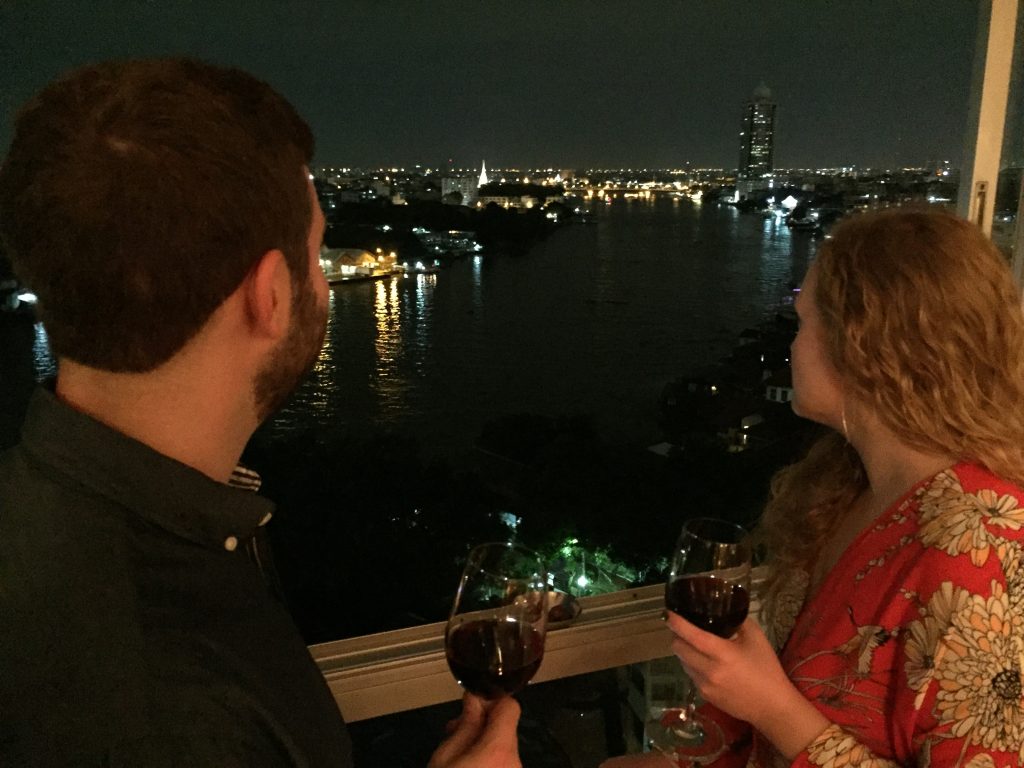 It's tough to find a view like this anywhere else in the world.
Just sitting there taking in the breeze in front of the window is a hard situation to improve upon, but the addition of the hand-crafted gin cocktail Florian made for us featuring lemongrass, Thai aromatics, and the perfect touch of lime juice was certainly not unwelcome. Then maybe a little deep red Pinot Noir later…yes, please.
Well now you have a drink and you have your glorious view. What else would be a nice addition? How about a 12 course tasting menu featuring Thai staples like traditional Thai Green Curry interspersed with modern interpretations of classic Thai dishes? Yes, that'll do.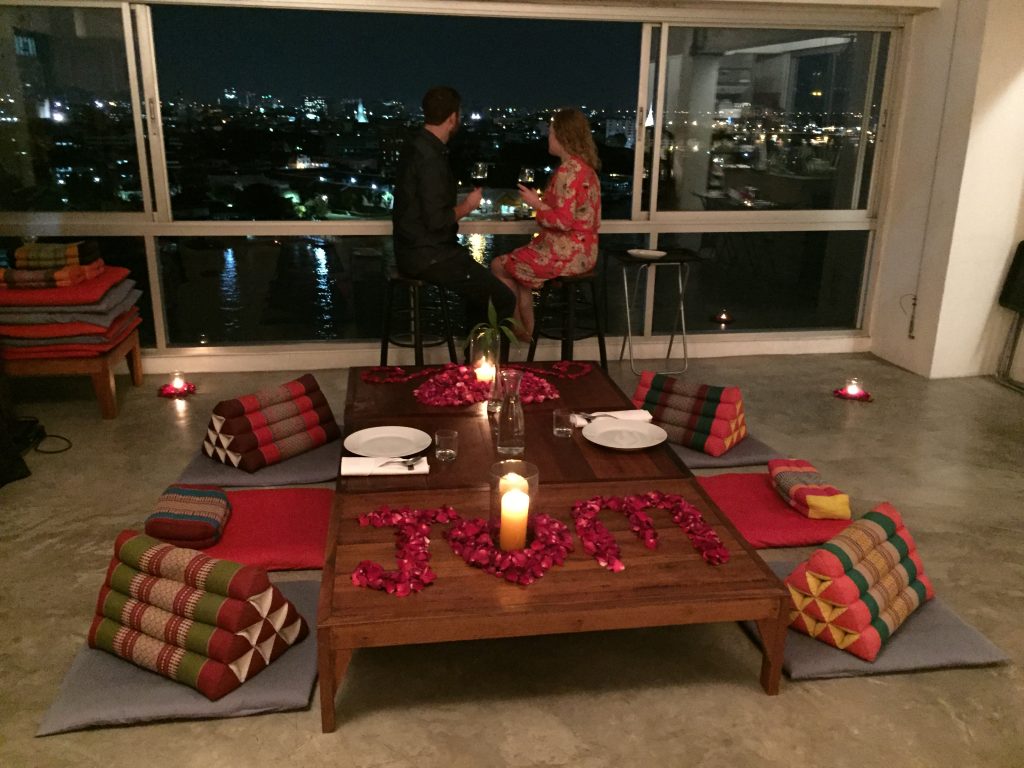 You eat sitting on the ground; the amazing view doesn't stop.
While this has been happening, Florian's wife and their niece have been dancing around the large open kitchen in front of you, lighting fires and mixing things, checking timers, getting plates ready. The view, the cocktail in your hand, the good conversation, and the smells and sounds of the kitchen intertwine in an experience that's as close to heaven on earth as I can imagine.
Sitting by the window, the "appetizer" courses are whisked out one after another in quick succession. The initial dishes are single bites, meant to be chomped in one go. Highlights were a warm omelet with potato and a curry dumpling with a texture like silk that dissolved on the tongue.
Once the appetizer portion is complete, it's on to the main courses. The curry was an atom bomb of flavor. It tasted like how you'd imagine an eons-old family curry recipe would taste. Velvety texture that feels like your tastebuds are being attacked by a pack of puppies that just want to cuddle. The perfect blend of spice and flavor with perfectly cooked chicken and sticky rice that you could never replicate at home.
The mackerel was another high note; sometimes you just underestimate how good a perfectly-seared piece of fish can be, ya know? This fish was cooked to the second and was absolute perfection. Buttery flavor, just the right amount of spice deftly applied to not overpower the dish, thai aromatics, a little fruit, and a not-too-rich Thai-style brown butter sauce. Just fantastic.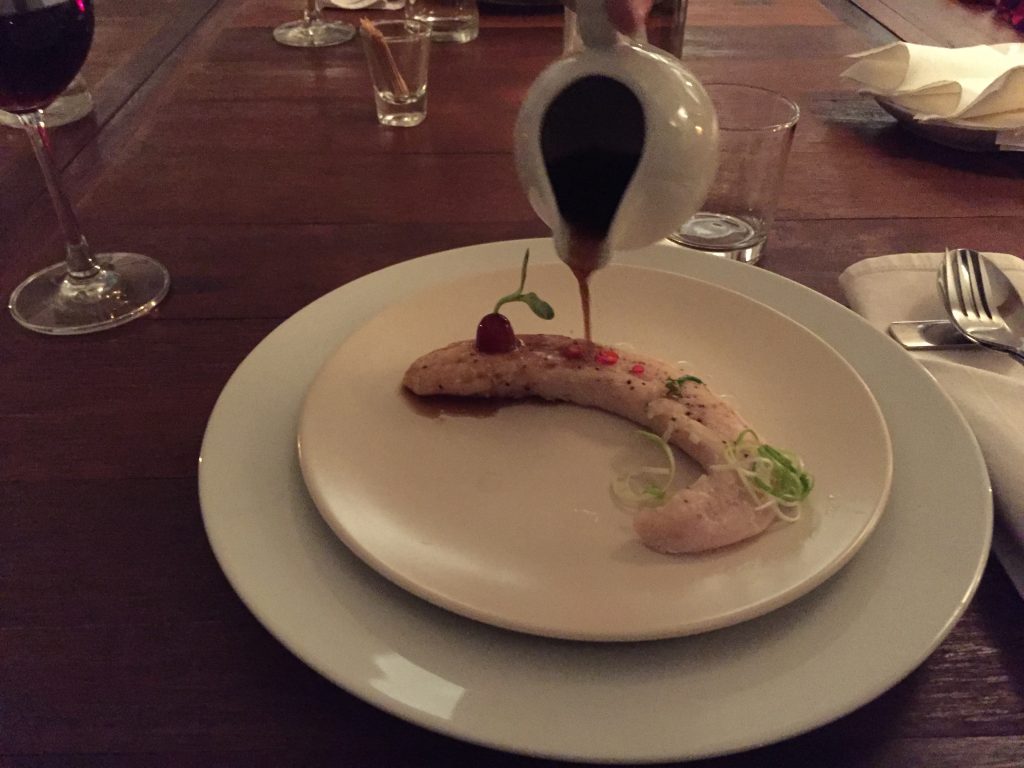 Rich, lemongrass-infused sauce dribbling luxuriously down the fish.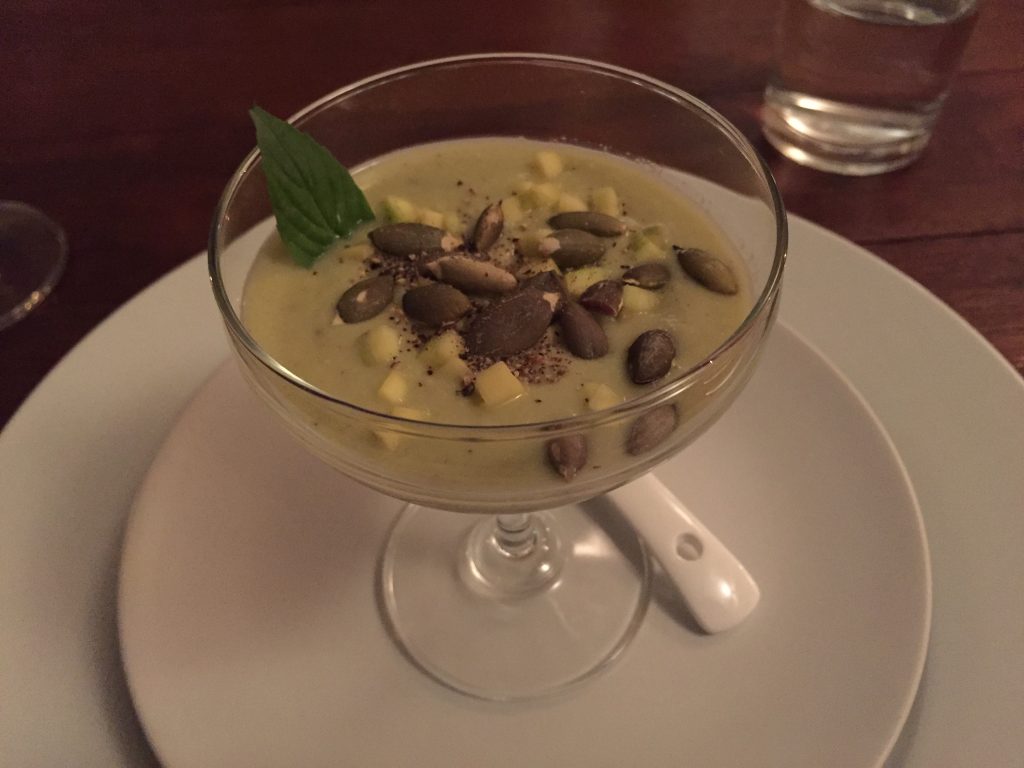 Thai twist on a Mexican Gazpacho.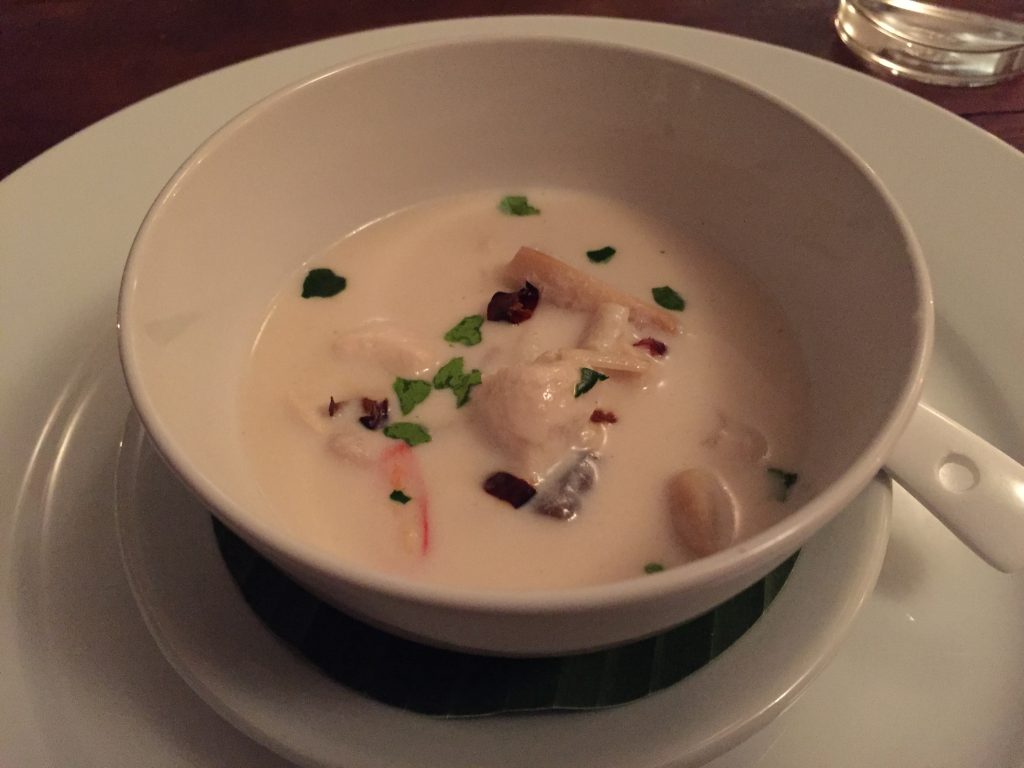 Thai Fish Soup made by someone who knows Thai Fish Soup like the back of her hand.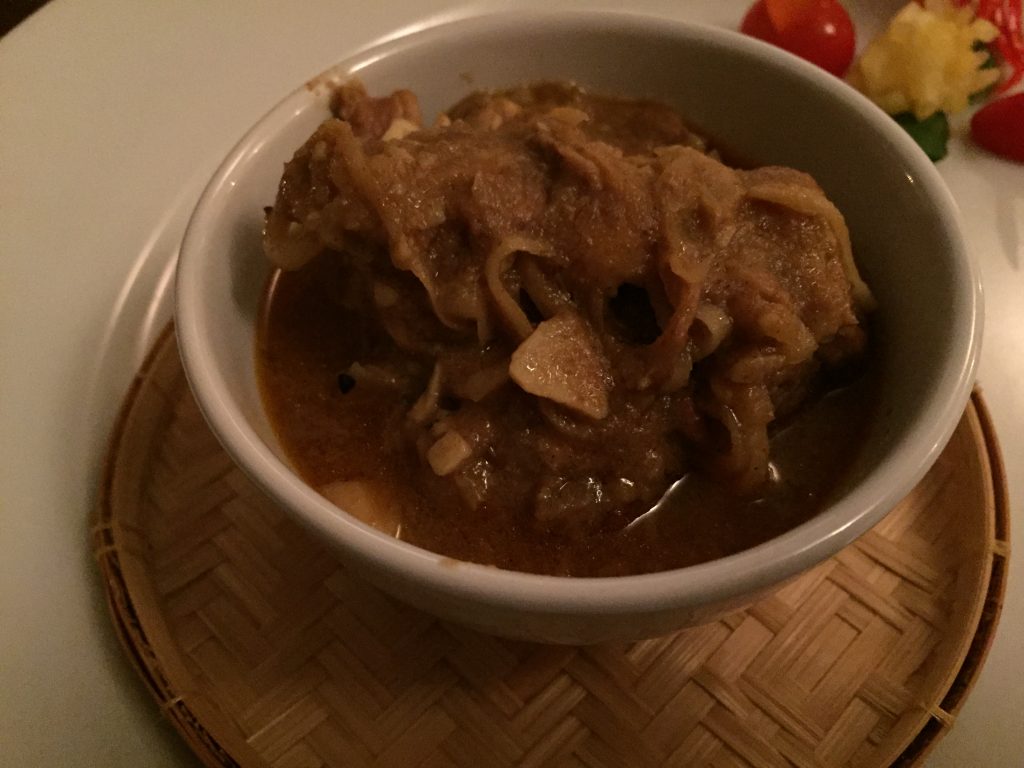 Northern Thai Curry. It's not really a looker, but the flavor packs a wallop.
If you every get the opportunity to have a dinner at Nang Gin Kui, at this point in the meal your experience will likely diverge from mine. Why? Because after our meal the love of my life and I took our leave of the dinner table, sat by the window with the view, Florian played "our song"…and then I bent to one knee and asked Jackie to marry me. She said "yes" and as they say…the rest is history.