I'll admit that I hold Italian food to a higher standard than other cuisine; I've eaten at some of the best restaurants in Italy and I grew up eating Italian food. Tomato sauce is in my blood. That being said, I was flabergasted by the Italian food at the just-opened Coda Di Volpe (3335 N Southport Ave, Chicago, IL 60657).
Let's get down to business: if you don't think Neapolitan pizza is the best kind of pizza I will fight you. Big bubbling cheese pockets that mock the lactose intolerant, sweet San Marzano tomatoes, thin crispy crust on the bottom, soft pillowy crust edges, and crispy burnt crust bubbles. In the words of the late, great Marlboro Cowboy, "welcome to flavor country." 
Our server recommended that we order a pizza to split as an appetizer. Pizza? Appetizer? Doesn't take much arm twisting to get me to say "yes" to that one. The pizza is a must-do if you hit this place up. Why?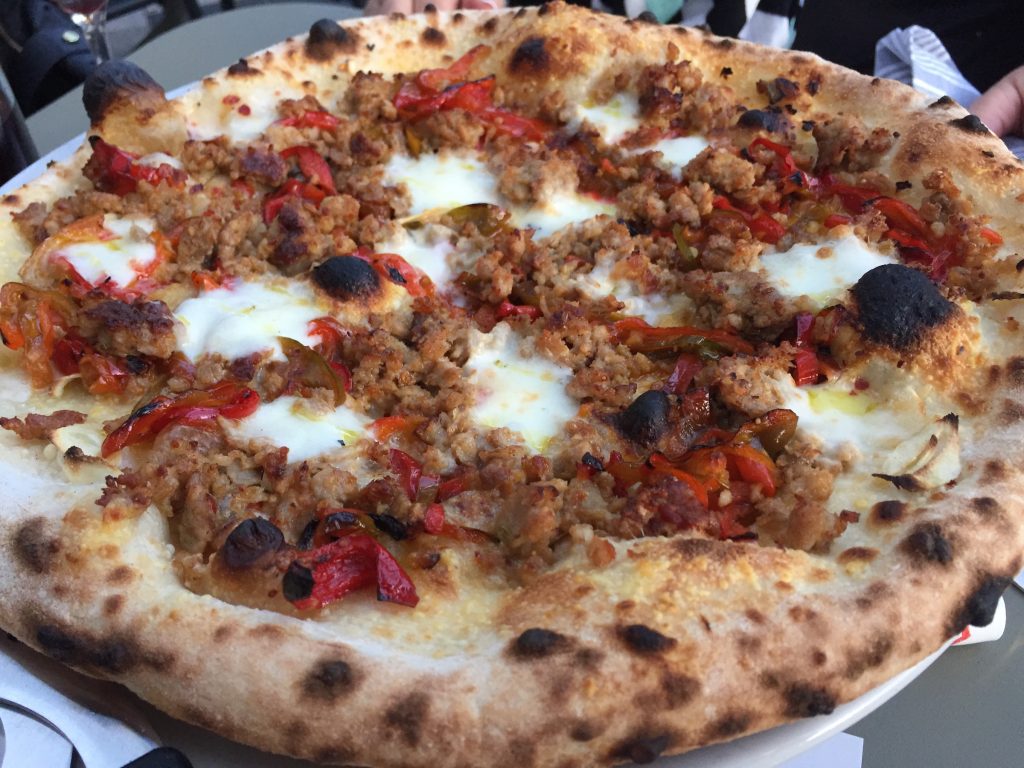 Because it looks like this. 
Salsiccia pizza – fennel sausage, peppers, chili flake, garlic, fior di latte, pecorino
The crust was perfection, but the highlight of the pie was definitely the fresh Italian sausage chock-full of fennel. After the pizza hit high notes, I decided I really like Coda Di Volpe and started ordering food like I was on Death Row. I mean there are only so many opportunities to gorge on Italian food from a patio during the stellar late-November autumn season in Chicago.
They delivered in spades with the pizza, so why not try some pasta?
Coda does half portions of their pastas (a policy every Italian restaurant should adopt) and has one of those pasta menus where it's really, really hard to pick one. Like yeah I want some pork ragu fettuccine! But I also want to try the squid ink pasta! That's where half portions are clutch – order both and share!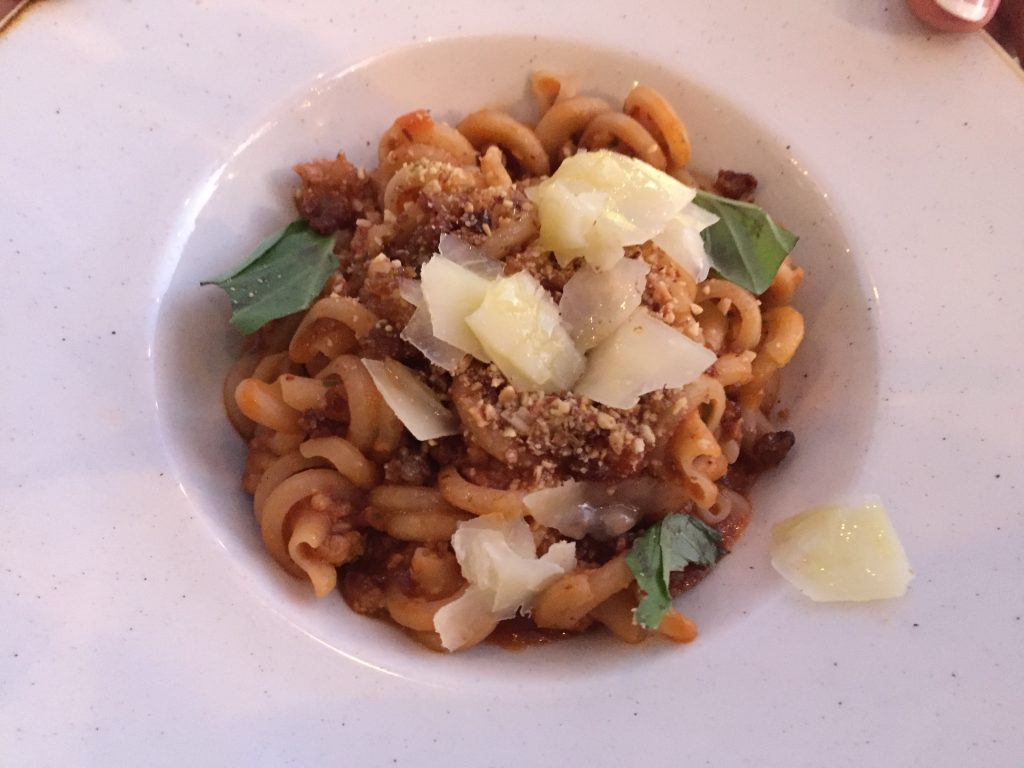 Trombette Trapanese -fennel sausage, tomato, almond, garlic, basil, caciocavallo. The sausage here is so good that it's ok to get it on everything.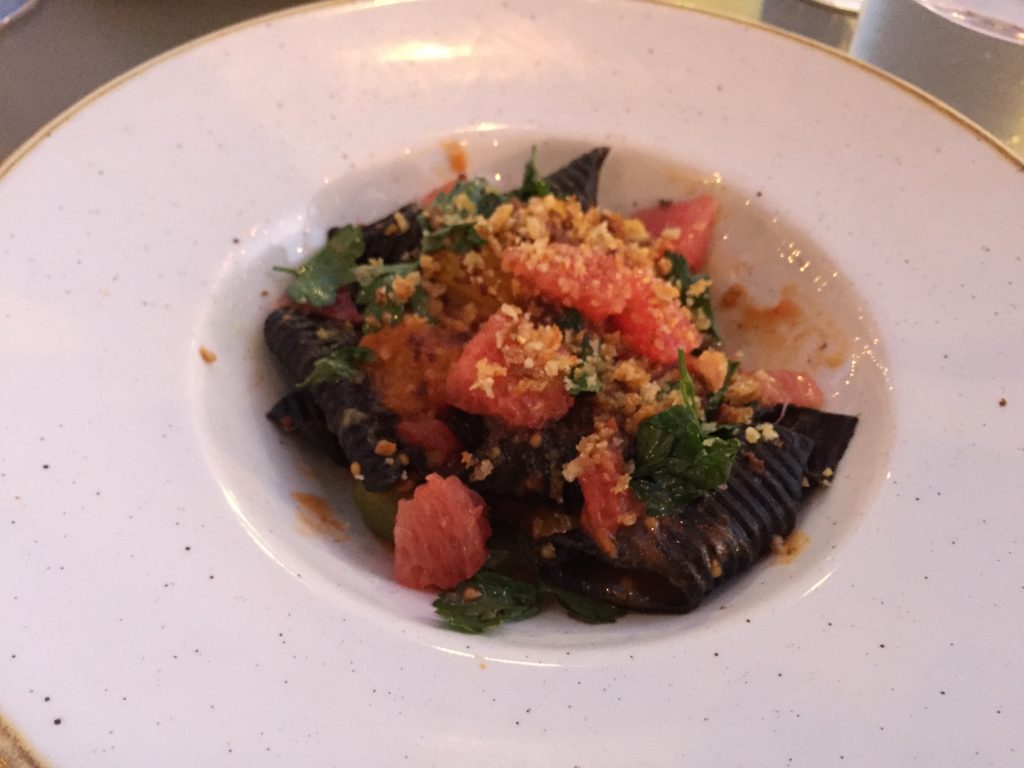 Squid Ink Garganelli –  blistered cherry tomato, castelvetrano olive, pomelo, salt-cured tuna heart
The Trombette Trapanese was incredible: fresh pasta, not too much or too little of the excellent sauce, and the outstanding fennel sausage made another appearance. Very Italian-y in the best possible way. The Squid Ink Garganelli was on the opposite side of the spectrum – a fantastic pasta dish with New American cuisine flair. What's this grapefruit and tuna heart doing in my pasta, what kind of hoity-toity shit is this? But then all these flavors start popping on your tongue and it just WORKS.
After the pasta, I asked our server what the best entree on the menu is. In a split second our server exclaimed "the pork chop." When a server recommends something without having to think too much about it, it usually means either something in the kitchen is about to spoil and they want the serving staff to sell it OR that thing is really, really good. In this case it was thankfully the latter. Perfectly cooked pork. I wasn't a fan of the pomegranates all over it – why add little-ass seeds that taste bad and get stuck in your teeth to a great plate of food? Goddamn pomegranates. But hey, clearly I don't like pomegranates – that's my personal preference. Useless little pomegranate seeds aside, the sauce was on point, the portion was huge, and the onions and pistachios on top elevated the dish to something uniquely delicious.
House-butchered Midwestern Berkshire Hog 16 oz. Pork Chop – pomegranate, pistachio, pearl barley, treviso
Dessert was a highlight. How did I not know about chantilly cream until now? Cinnamon gelato by itself is a good dessert. But how about you coat the gelato in chantilly cream and put the whole thing on top of a flaky apple crustata/pie thing? Then you have a dessert that makes you want to give the pastry chef a back rub because they earned it.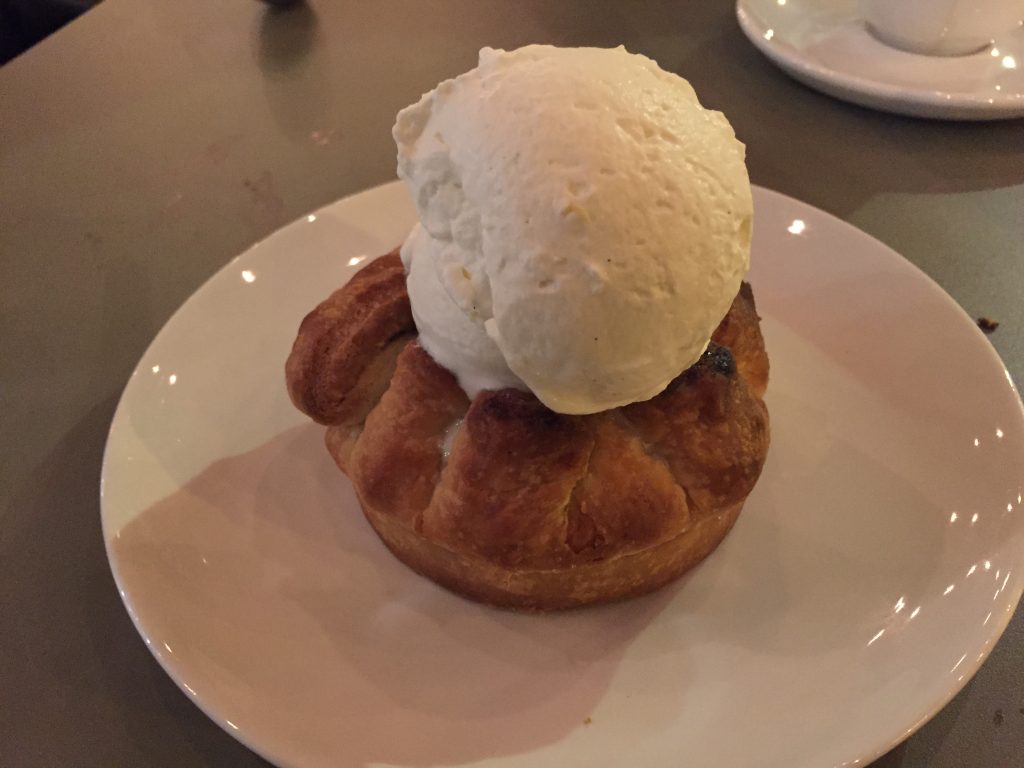 Apple Crostata – cinnamon gelato, thyme chantilly cream
The service was excellent – our server was attentive without being annoying and provided great recommendations, but the food at Coda Di Volpe is the star of the show. They told us that the place had been getting booked up about a week in advance. Make the trip to Coda Di Volpe and treat yo'self to magnificent Italian food. And the pizza. Don't forget about the pizza. 
P.S. The pizza.