It's not every day that you have to make a bridge out of tables and chairs to escape a flooded restaurant, but Chilam Balam allowed me to cross that adventure off my list.
More on that later.
First, I must proclaim that Chilam Bilam (3023 N Broadway St, Chicago, IL 60657) is one of the most spectacular culinary hidden gems in Chicago.
A word of warning: you have to bend over backward a bit to eat there, but it's worth it. I mean this isn't Nam' – there are rules. It's cash only. They don't seat incomplete parties. You have to order everything at the beginning of the meal. Yet somehow jumping through all these hoops adds to the charm of this non-descript BYOB basement restaurant below a sex shop.
Mexican food is a cuisine that's not yet beloved by the high-end foodie community like Japanese, New American, French, or Italian food. I think Taco Bell and the local Mexican chain restaurants like "Burrito Palace #9" have created a stigma of people thinking that Mexican food just isn't on the same level as other more mainstream high-end cuisine.
But Chilam Balam turns this stigma on its head. At Chilam Balam the dishes are toe-to-toe in terms of plating, creativity, and deliciousness as any high-end French or New American restaurant I've been to.
Many dishes are a riff on classic Mexican staple dishes. Part of what makes Chilam Balam so good is that they are doing high(er)-end food, but also incorporating expert executions of traditional Mexican favorites. That means that you'll see "memelas" on the menu, but what you end up getting is shoots, goat cheese, arbol salsa, and black beans presented like a picture on a foodie magazine cover, with maza that tastes like it was fresh-made by someone's abuelita (that means "grandma", ya gringo).
The menu rotates seasonally and it's tough to pick a dish that isn't a winner. I've had a lot of the menu and I haven't found a dud. Ask your server what's good on the menu and for god sakes get the mamelas (and the empanadas, if that's your style).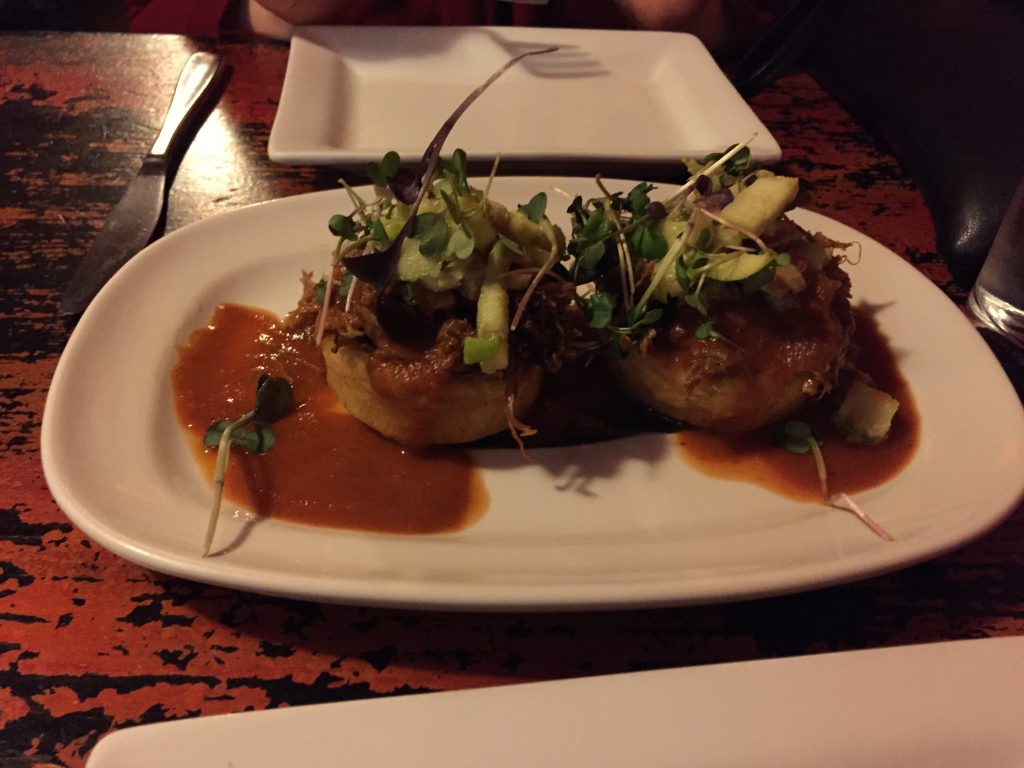 The maza in the"mamelas" dish is on-point. As is everything else in the "memelas" dish.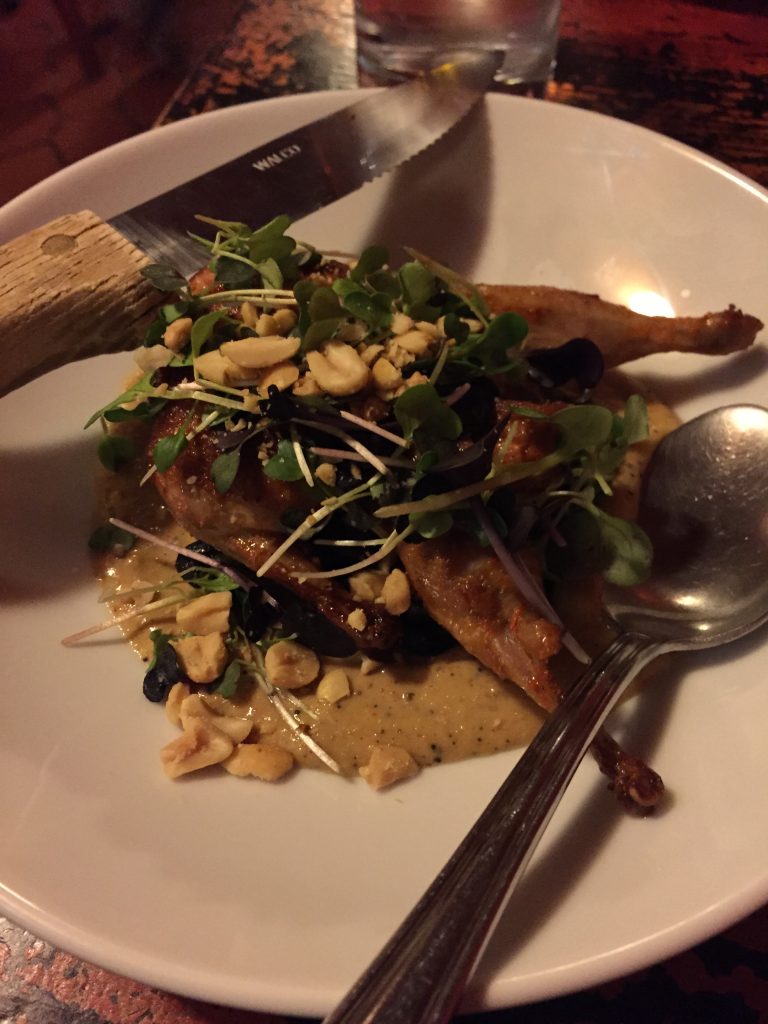 Pheasant with nuts and delicious Mexican goo (not the official name).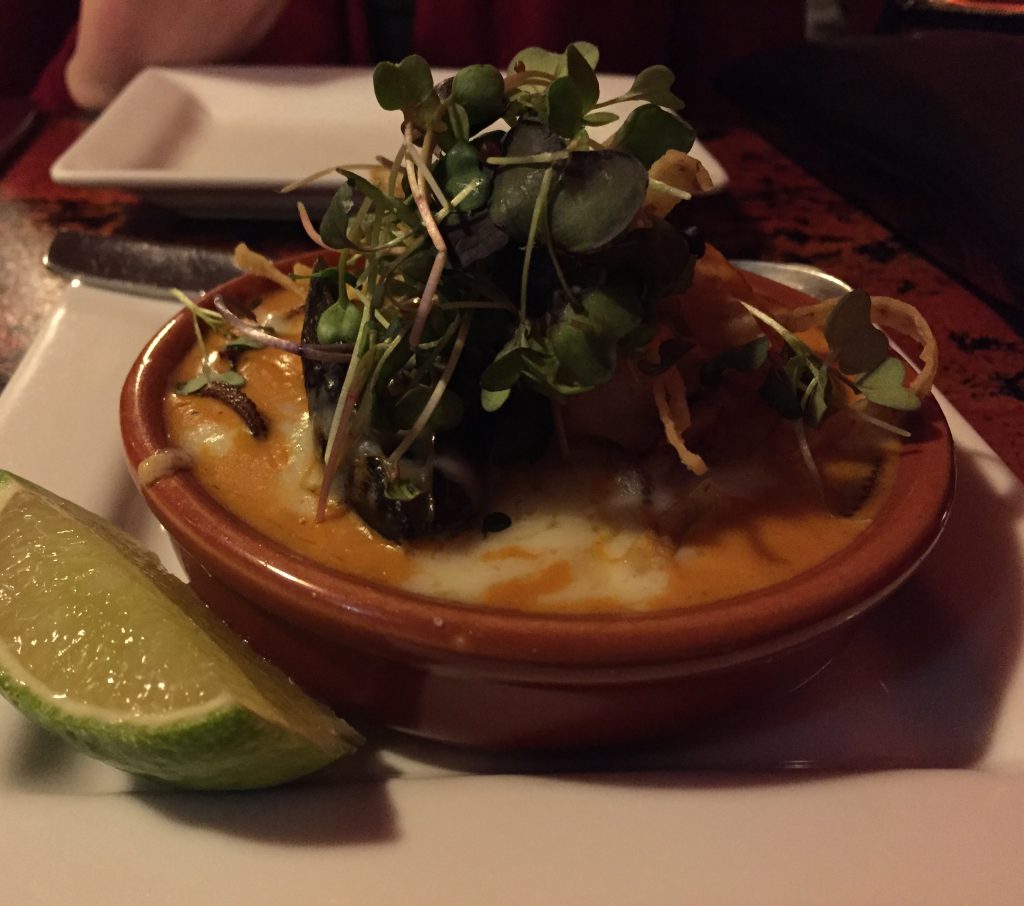 Pump it into my veins.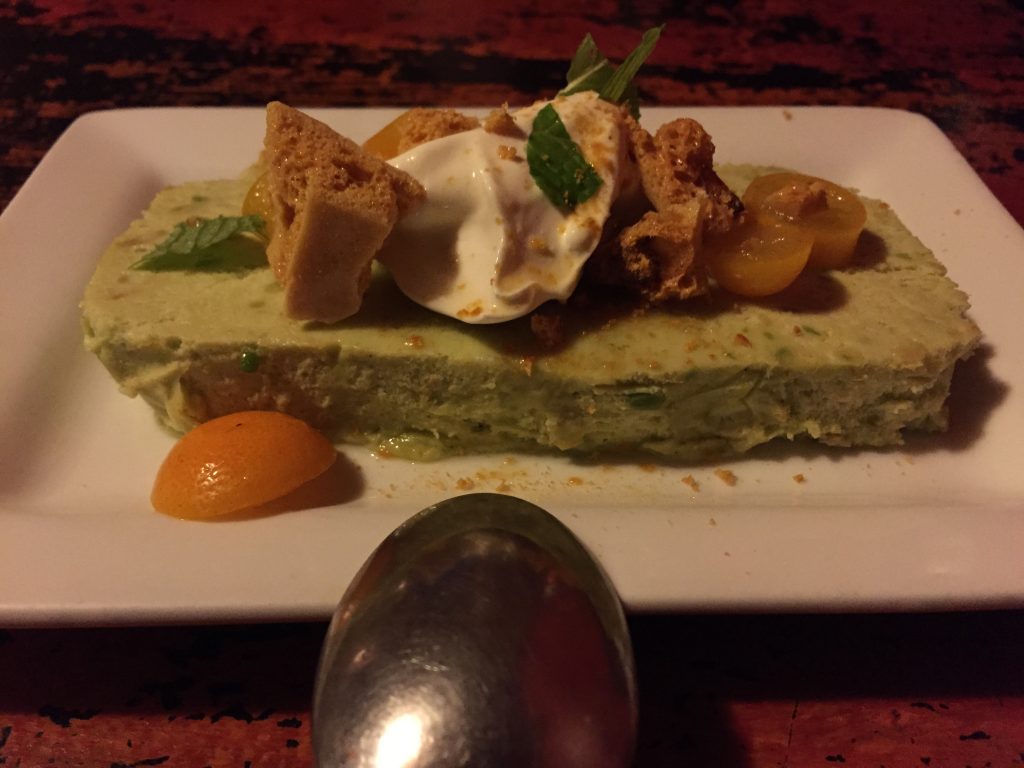 Avocado ice cream. One of the stand-out dishes – outstanding taste and texture.
Chilam Balam is easy to miss, quietly nestled in a basement on Broadway.
Now, the fact that it's in a basement is important to the story I'm about to tell. I've been to Chilam Balam multiple times, but my last visit gave me an experience to remember.
I went with a group. My girlfriend and some of her family. The meal started out as it should at Chilam Balam – rules were explained, the menu was ogled, dishes were selected. What came next no one was expecting. For those of you that don't live in Chicago, our weather is fickle and ever-changing. It can go from beautifully sunny outside to a titanic storm in a matter of minutes.
And that's exactly what happened to us. About half way into the meal it begins to STORM. I'm not talking about some piddly rain and little thunder. I'm talking about biblical shit here. Find an Ark or you're done scenario.
It rained so hard that water started making its way inside. At first, the water puddled a little on the floor. Then a little more. Then we had to put our feet on top of the base of our table to keep them dry. Then the water started to rise.
The owner, Frank, started scrambling to work – simultaneously whisking our food to our table from the kitchen while mopping up water on the floor. Then the water got to ankle level and it was time to act.
We got the check, but by the time we were ready to leave, everyone had their legs up and the water was about calf-level.
What Frank did next was thing of legend. Not wanted us all to get severely soaked, he snapped to action and made a bridge out of chairs from our table to the door. It reminded me of being a kid, how we would make bridges to get from the living room to dining room without touching the "hot lava" on the floor.
There were two other tables in the restaurant, all of us laughing at this outrageous situation we found ourselves in. Imagine five people climbing from chair to chair, stepping on tables and benches to escape a restaurant with 8 inches of standing water on the floor.
Frank made the bridge outside and up the stairs. We got out dry and we had what was one of the most memorable dinners of our lives.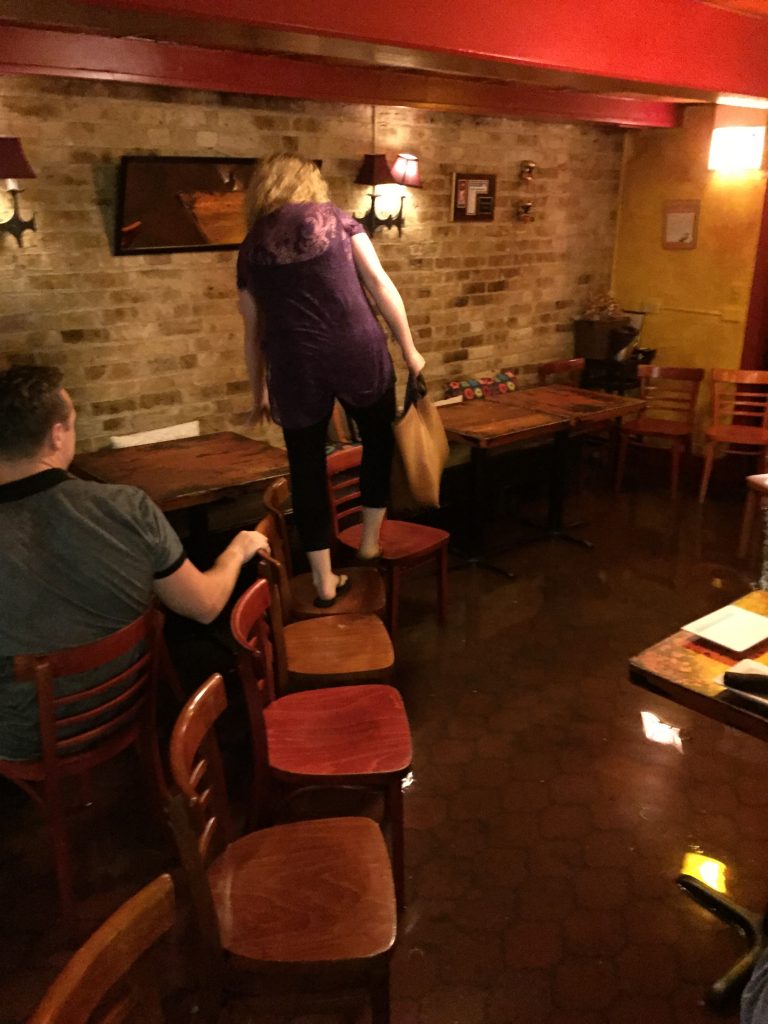 Jackie making her escape.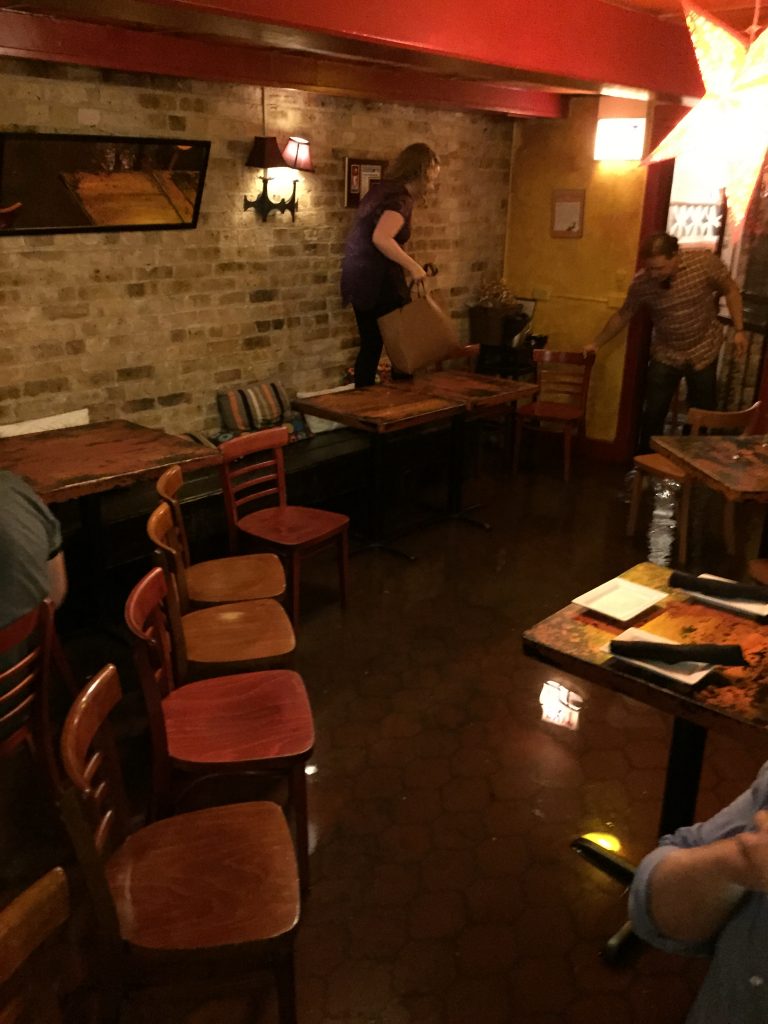 See how the floor is shiny? That's about 8 inches of water.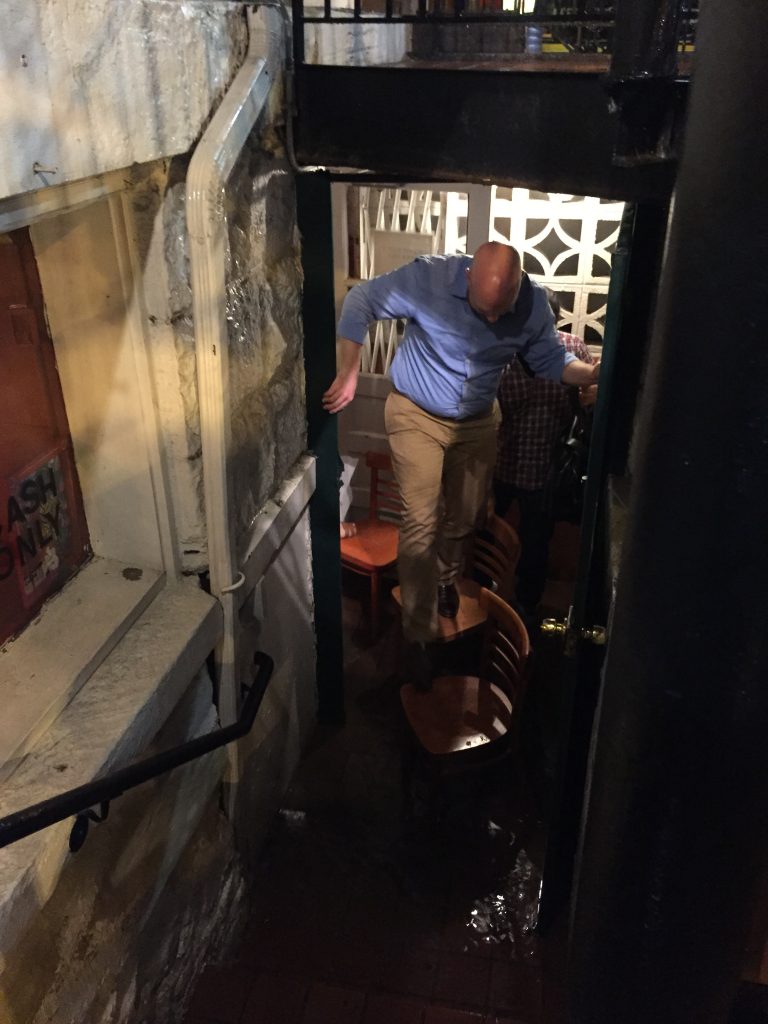 Phew. We made it.