Girl & the Goat (Chicago): Goat Leg Edition
When I imagine the type of food Ron Swanson from Parks and Rec would approve of, the Goat Leg at Girl & the Goat is right at the top of the list (along with unholy quantities of breakfast food and a 16 oz T-bone with a side of a 24 oz porterhouse). It's the demon in a militant vegan's worst nightmare. More on that later.
First, a little about Girl & the Goat. If you talk to me for five minutes about the best restaurants in Chicago, Top Chef winner Stephanie Izard's Girl & the Goat is bound to come up. Girl & the Goat is all about big, in-your-face flavors. If you like to eat stuff that's like a hydrogen bomb of flavor exploding your mouth, you'll like Girl & the Goat. It's hands-down one of the best restaurants in Chicago, and after the Goat Leg experience, is now in my Top 10 for 'Best Restaurants in the History of the Universe.'
So you can imagine my excitement when we reserved a Goat Leg. Here's how it works: if you call a few weeks ahead, Girl & the Goat will cook a frickin' whole goat leg for you. I'm not talking a big piece or just the best parts, I'm talking the whole damn bone-in behemoth. If you like to eat delicious meat in unapologetically large quantity, this will be legendary for you.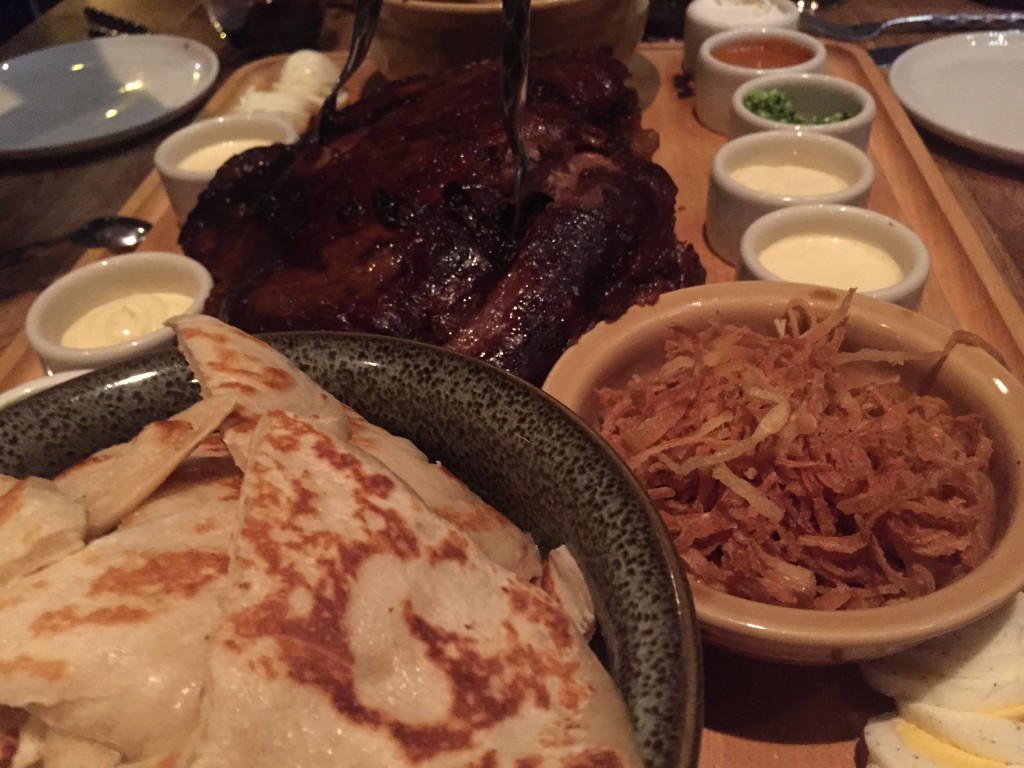 When you walk in the restaurant, the host and every staff member you meet gets this excited look on their face when you mentioned you booked a Goat Leg. They're genuinely pumped for you. Our server told us it's "the one dish everyone should try before they die." This enthusiasm contributes to a powerful excitement build-up for the experience to come.
And then you see the Goat Leg coming and you can't help but lose your shit.
It's served with theatrical flair on a gigantic wooden cutting board that takes all of the busboy's strength to lift. Five dipping sauces line the sides of the board, mirrored on either side so that each side of the table gets their own sauces – dining engineering at its finest. I won't ruin what the sauces are, as they're all spectacular in their own way and should be a surprise, suffice it to say that the 'ranch' sauce is so damn good that you'll want to put it on everything, or just take it home and brush your teeth with it. I would never accuse a restaurant of spiking their sauce with an illegal substance, but if you wanted to bet me that there's some sort of 'Class A' substance in that sauce, I wouldn't bet against you.
The goat meat is just good old-fashioned artery-clogging goodness. It's the type of thing where you say a quick Hail Mary, hope you've done enough cardio recently for your heart not to explode, and dig in. It's tender, it's flavorful, it's just the right amount of greasy. And best of all, there's a whole lot of it. Accompaniments include a copious amount of naan bread – great for making goat meat naan tacos – along with fried onions, the aforementioned dipping sauces, and sliced hard-boiled egg. Egg and goat together? Try it, it's a marriage made in meaty heaven. There's no wrong way to eat the thing, and experimenting with the various accompaniments is half the fun.
I recommend balancing out the meat spectacle with a few vegetables, you know, to be healthy. The green beans with smack-your-tastebuds fish sauce flavor and the parmesan-drenched cauliflower were our veggies of choice and both were on par (in terms of raw deliciousness) with the actual goat meat. We also ordered the Seared Scallops and Pig Face (which was the agreed-upon runner-up of the meal, right behind the goat meat) because we wanted to try a few things on the menu, and frankly I think we underestimated the sheer meaty volume of the Goat Leg.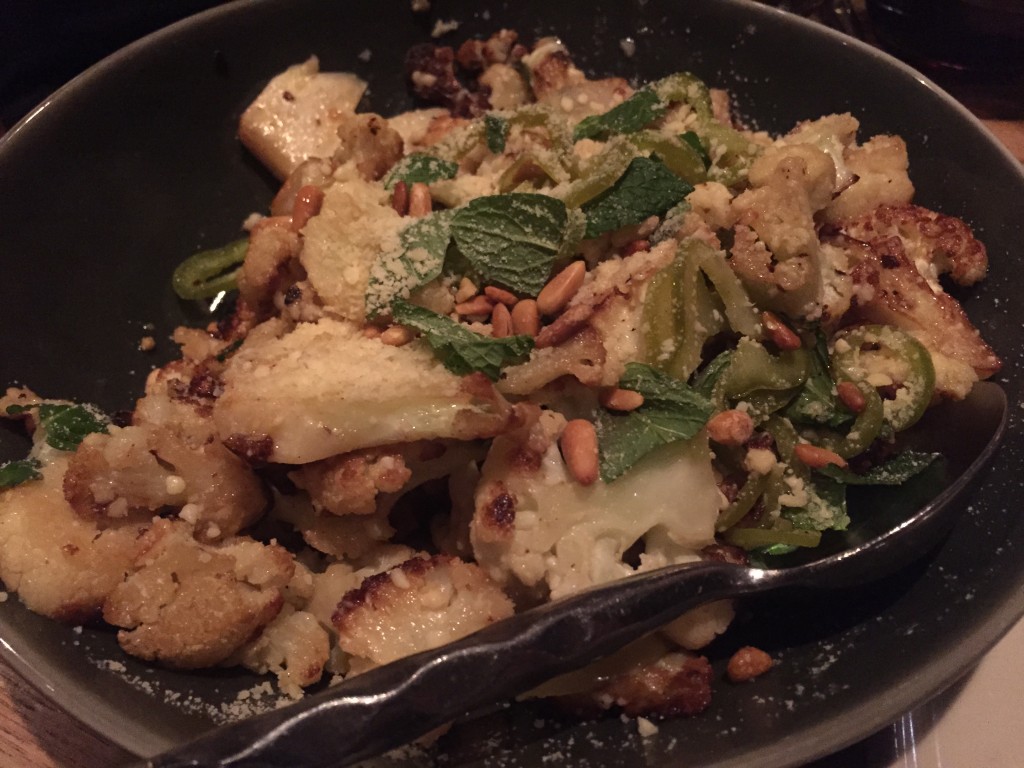 We dined with five people, and there was enough leftovers for each of us to take a lot of goat meat and sides home. Also the price point (under $200 as of Feb. 2016) is a steal. With eight people (the recommended minimum group-size for Goat Leg consumption) you're looking at under $25/person to have a spectacular meal at one of the best restaurants in Chicago. It's the meat-related deal of the century.
My recommendation? Follow these steps in this order:
Call Girl & the Goat.
Book a reservation and

reserve a Goat Leg.

Eat it with folks that love meat as much as you do.